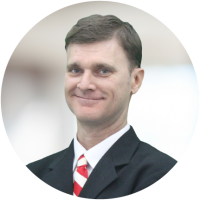 Dear Amazing Students,
On behalf of Amazing English, Mike Manley (CAO) would like to express our sincere thanks to those who participated in English language courses at the Center, as well as those interested in monitoring extracurricular programs and activities with us.
Our education programs have been spreading to thousands of students in order to help them have the opportunity to access the core values of our education which are, "Strong Foundation, Good Skills". We move toward international integration, and contribute to nation-building. Therefore, we focus on training and practicing standard American pronunciation for students, from which good communication will increase their self-esteem and productivity.
One of our typical courses is Amazing Communication. This course is aimed at students, officers, etc who want to improve their communication.
Besides that, we also focus on Kids' programs to give children the opportunity to develop their English skills. The Explore Our World curriculum is designed according to the method of "learning and playing". Children will learn through small activities in the classroom thanks to the native teachers and the Vietnamese tutors. The Amazing Kids is a useful and suitable course for all of the children.
Amazing English combined with Education First to organize the summer abroad programs in many countries: UK, USA, Australia, etc for students from 12 to 18 years old. Recently, we are also cooperating with Wow Art to open many creative art courses for children from ages 4 to 12 years old with the motto : "No imposition  – No fear of wrong – No evaluation".
At the same time, we also organize events and field trips for many different ages.
The constant efforts and the efforts of the management team, the teaching team and staff aim to bring the best quality courses, the best experience for learners. We will always constantly innovate to provide students with the best quality educational environment.
Sincerely,
Mike Manley
Chief Amazing Officer (CAO)
Amazing English